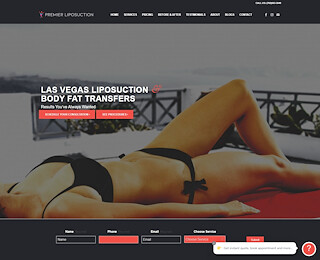 Premier Liposuction is a #1 cosmetic clinic for stomach liposuction in Las Vegas with a highly skilled team of doctors and medical assistants. We help our clients achieve that dream body and weight loss goals that always seemed impossible at affordable prices.
Will I have scars after stomach liposuction?
Your doctor will perform small incisions in the treatment area to remove the excess fat.
You must also follow the after-care incision instructions precisely to avoid scars. Your doctor may prescribe certain topical medications to help the incisions heal with minimal scarring. Your age, genetic make-up, skin elasticity, and lifestyle choices also play a pivotal role in the extent of scarring and the appearance of your skin after a liposuction procedure.
How to choose a plastic surgeon for my stomach liposuction in Las Vegas?
Liposuction is a major surgery and a personal experience. It is essential that you invest time, and do your fair share of research to find the right surgeon for your fat-loss procedure. Refine your search to finding only the board-certified plastic surgeons with the highest qualification, experience, and skill set.
Meet up with at least 2-3 plastic surgeons for a consultation to learn about their liposuction technique, the advanced technologies that they use for fat removal, to see pictures of lipo results in previous patients, and to learn about the total cost of the procedure. After a couple of consultations, compare the prices and quality of treatment offered by each of the doctors. Lastly, choose a treatment facility that is close to where you live, as you may have to go in for a couple of review checkups for a few months after the procedure.
Tips to maintaining your stomach liposuction results
Recovery is crucial for a procedure like liposuction, and you must ensure that you do not disturb your body's natural healing process. These are some tips for a safe and speedy recovery after liposuction:
Eat well and stay hydrated - Remember that if you do not maintain healthy body weight, you could regain the fat lost through liposuction. Make sure to eat a healthy and nutritious diet, and do not attempt extreme diet regimes. Have plenty of water throughout the day to promote healing and to overcome inflammation.
Take plenty of rest - Refrain from engaging in strenuous physical activities or exercise or anything stressful for at least a month after your procedure. Try to get plenty of sleep to promote healing and take short walks to feel brisk and energetic during recovery.
Be regular for your follow-up checkups – Follow your doctor's post-operative instructions precisely, and do not miss any of the follow-up checkups even if you think you are healing at a steady rate.
Schedule a free consultation with our top plastic surgeon today by calling us at 702-405-7481 or visit https://premierlipo.com/contact/ to make an appointment. Premier Liposuction is a highly acclaimed treatment center for stomach liposuction in Las Vegas, and we help you get the slim, beautiful, and flat abdomen that you've always envied at affordable prices.
stomach liposuction Las Vegas
Premier Liposuction
(702) 405-7481
6930 S Cimarron Rd #220
Las Vegas
NV
89113
View Larger Map